David &amp Sithandwa Beevers
Bulawayo, Zimbabwe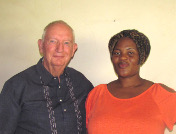 David is the co-founder of the organization with Dave Cushworth.
David Beevers has lived in Africa since 1970 and in Zimbabwe since 1976. He graduated from Christ for the Nations in 1981 and returned to Bulawayo in Zimbabwe where he still lives. David is a Bible Teacher with a healing and prophetic ministry.
He married his present wife, Sithandwa in August 2011. They have one son, Carl-Jon born in March 2013. He has four other children and 15 grandchildren. Sithandwa has two children, Chetney (1996) and Divine (2008).
The two Davids - (Beevers and Cushworth) started Hope Unlimited in 1989 because of a passion for the Kingdom of God in Zimbabwe. David Beevers spent several years in children's and youth ministry before venturing into training and equipping pastors and church leaders in the rural areas in the south of the country. What started as a teaching ministry soon grew into a fathering ministry with many facets. Starting with just five pastors and two churches, he now works with 14 pastors who have oversight of over 30 churches and some 1500 plus members in Zimbabwe.
Out of his relationship with the pastors has developed a group of churches - Ambassadors Christian Fellowships which operates in Zimbabwe, South Africa, the Philippines, the US and Malawi.