David &amp Lynne Cushworth
Wilmington, Delaware, USA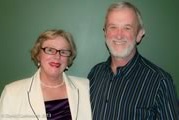 David is the co-founder of the organization with Dave Beevers.
In addition to functioning in an Apostolic role within the Fellowship, he is the Executive Director of the organization and provides direction, insight and assistance to all.
David and Lynne have spoken at conferences around the world, done street evangelism in some of the toughest places on the planet, winning souls and planting works that still endure.