Douglas &amp Itai Moyo
Musina, South Africa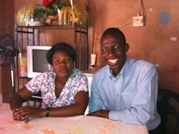 Douglas and Itai started their church, Ambassadors Christian Fellowship, in Musina, South Africa, which is a border town facing the town of Beitbridge in Zimbabwe.
They are involved in their local Musina Church, a Children's Feeding Program, the Venda Outreach Program, and the Pretoria Church.
Douglas is the overseer of Ambassadors Christian Fellowship in South Africa - the ministerial fellowship of this organization.